Easy remote camera viewing with free TRENDnet Cloud service
Indoor night vision of up to 7.5 meters (24 ft)
High speed wireless n connection
Program motion detection recording, email alerts and more
One-way audio
Free mobile App
TRENDnet's Wireless Day/Night Cloud Camera, model TV-IP751WIC, takes the work out of viewing video over the internet. Previously to view video remotely, users needed to perform many complicated and time consuming steps: such as signing up for a third party dynamic IP service and reconfiguring their router. The TRENDnet Cloud service removes all of these complicated steps. Users simply open a web browser and log into the TRENDnet Cloud with their unique password to view and manage this camera. A free App for mobile devices brings live video to smart phones and tablets.
About the TV-IP751WIC
Record crisp video in complete darkness for distances of up to 7.5 meters. Wireless n technology connects the camera to a wireless network and provides unsurpassed wireless coverage and improved streaming video quality. Add this camera to your wireless network at the touch of a button with Wi-Fi Protected Setup (WPS). The TV-IP751WIC offers 640 x 480 (VGA) video at up to 20 frames per second (fps), one-way audio, motion detection recording, scheduled recordings, email alerts, and four times digital zoom. A wall/ceiling mounting kit is included and the camera's off white housing blends into most environments.
About TRENDnetVIEW Pro Management Software
Users can either control each TRENDnet camera individually or can use the free included enterprise class TRENDnetVIEW Pro software to manage up to 32 cameras. TRENDnetVIEW Pro is compatible with Windows and Microsoft Server operating systems and supports all current TRENDnet cameras.
TRENDnetVIEW Pro provides users with extensive camera viewing options. Users can define a combination of weekly recording schedules and motion detection recording; program motion detection areas of any shape; set date, time, and text overlays; and define mask overlays to conceal sensitive areas.
Zero loss architecture provides the ability to record a single video stream to multiple locations simultaneously. Manage recorded files by time or by storage space. A navigation timeline of stored video provides a quick visual reference of recorded content.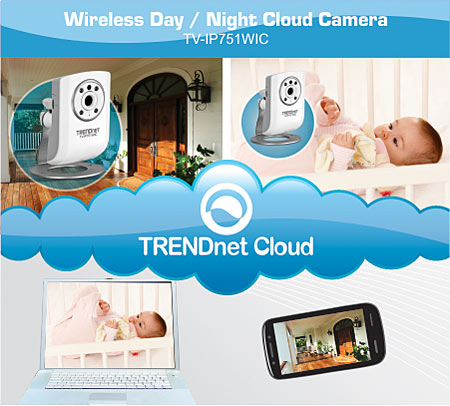 TRENDnet Cloud Service
Free cloud service
Automatically connects to a TRENDnet Cloud camera over the internet

Cloud service eliminates the previous requirement to sign up for a Dynamic DNS service and reconfigure your router and IP camera
Cloud camera requires internet connection

Each camera accessed individually with unique web address (URL)
Password protected cloud service
Access to live video
Full camera management with adequate network connection
A single camera can be viewed remotely by multiple users concurrently

The number of concurrent users is limited by ISP network bandwidth

Remotely view multiple cameras on the same local area network (LAN)

The number of viewable cameras is limited by ISP network bandwidth

Cloud App for mobile devices (iOS® and Android® support)
FEATURES
Wi-Fi compliant with IEEE 802.11n standard
Backwards compatible with IEEE 802.11g and 802.11b devices
One touch Wi-Fi Protected Setup (WPS) connection button
1 x 10/100 Mbps Ethernet port (for optional wired installation)
Power and activity LED indicators (can be disabled)
1-way audio
Reset button
Indoor night vision of up to 7.5 meters (24 ft)*
4x digital zoom
Dynamic DNS support
Supports up to 640 x 480 pixel MJPEG resolution at up to 20 frames per second
Compression Rate: Very Low, Low, Medium (default), High, and Very High
Image controls: brightness, contrast, saturation, light frequency, flip image vertically, mirror image horizontally, and day/night mode
Define a recording schedule or motion detection recording
Create motion detection fields over the viewing area
Supports TCP/IP networking, email, HTTP, and other internet protocols
System controls:

Define up to 64 user login accounts
Set the date and time or synchronize with an NTP server

Supports wireless encryption up to WPA2-PSK
Quick Universal Plug and Play (UPnP) installation
Mounting base and mounting hardware included
3-year limited warranty
TRENDnetVIEW Pro Camera Software Features
Manage up to 32 cameras**
Compatible with Windows and Microsoft Server 2008
Multiple language support
Camera Viewing

Preset viewing modes
Program custom viewing modes
Full screen view
Drag and drop live feeds to a new location
Program camera cycle viewing sequence
Motion detection brings video forward
Side, top, and bottom tool bars can be hidden
Web based access from smart phones and tablets

Recording options schedules

Program weekly recording
Motion detection recording

Define motion detection areas of any shape
Define motion detection sensitivity

Event trigger recording
Date and time overlay
Mask overlay to conceal sensitive areas
Save a single video stream to multiple locations simultaneously
Define recording quotas by recording time or space allocation
Disk clean feature condenses and optimizes old files
Real time recording stats to help manage files

Search and Playback

Navigation timeline provides a quick visual reference to the recorded content
Search continuous recordings by motion
Search recordings by motion within a defined field (a portion of the viewing area)
Time lapse playback search

Map cameras on an image such as a floor plan
Map cameras on Google Maps™
Camera
General
Sensor: 1/5" CMOS Sensor
Board Lens
Focal Length: 4 mm
F/No: 1.5
Minimum illumination: 0 lux (with night vision)
Focus Depth: 20 cm ~ infinity
View:
Horizontal: 38.0°
Vertical: 28.7°
Diagonal: 46.5°
Digital Zoom: 4x
Audio
Built-in omni-directional microphone
Sensitivity: -38 dB +/- 3 dB (5 meters max.)
Frequency: 100~2 Hz
S/N: >60 dB
Format: PCM
Day/Night
Built-in ICR
Night vision (IR) up to 7.5 meters (indoor)
Hardware
Network
IEEE 802.3u 10/100 Mbps Fast Ethernet
LED
Power, Link/Act
WPS Button
Enable WPS connection
Reset Button
Reset to factory default
Power Consumption
Max 5 watts
Power
Input: 100~240 V, 50/60 Hz, 0.2A
Output: 5 V, 1.2A external power adapter
Dimension
75 x 115 x 30 mm (2.95 x 4.5 x 1.2 in.)
Weight
110 g (3.8 oz)
Temperature
Operating: 0°C ~ 40°C (32°F ~ 104°F)
Storage: -15°C ~ 70°C (5°F ~ 158°F)
Humidity
Max 90% (non-condensing)
Certifications
CE, FCC
Requirement
Management Interface
Internet Explorer 7.0 or higher
Firefox 3.5 or higher
Safari 4.0 or higher
Google Chrome 19.0 or higher
To Run software
Windows 7 (32/64-bit), Vista (32/64-bit), XP (32/64-bit)
Windows Server 2003, 2008
TRENDnetVIEW Pro Software
Channel: supports up to 32 cameras
Record/Playback/Motion Detection/Audio
Network Protocols
IPv4, ARP, TCP, UDP, ICMP
DHCP Client, NTP Client, DNS Client, DDNS Client, SMTP Client, FTP Client
HTTP
PPPoE
UPnP
Wireless
Standard
IEEE 802.11b, 802.11g and 802.11n
Frequency
2.4 ~ 2.497 GHz ISM band
Modulation
DQPSK, DBPSK, DSSS, and CCK
Antenna
Built-in 2 dBi antenna
Data Rate
802.11b: up to 11 Mbps
802.11g: up to 54 Mbps
802.11n: up to 150 Mbps
Security
64/128-bit WEP, WPA/WPA2-PSK
Output Power
802.11b: 17 dBm (typical)
802.11g: 14.5 dBm (typical)
802.11n: 14.5 dBm (typical)
Receiving Sensitivity
802.11b: -89 dBm at 11 Mbps
802.11g: -74 dBm at 54 Mbps
802.11n: -71 dBm at 150 Mbps
Channels
1~11 (FCC), 1~13 (ETSI)
Management
Accounts
Up to 64 user accounts
Remote Login
Remote management supported
Backup/Restore
Save/retrieve configuration files
Cloud Link
Display status and URL, enable/disable, refresh
Settings
Image
Brightness, contrast, saturation, light frequency, flip, mirror (horizontal/vertical)
Video Setting
Encoding: MJPEG
Resolution and frame rate: VGA @ 20fps, QVGA @ 30fps, QQVGA @ 30fps
JPEG quality: Very Low, Low, Medium (default), High, Very High
Recording
Event based (motion detection) and scheduled
Snapshot
Trigger event: motion detection
Action: send alert email and/or upload to FTP
Real time snapshot
Port Settings
HTTP port: 80 (default)
Time
Synchronize with NTP server or PC, or set time/date manually
TV-IP751WIC
CD-ROM (Utility, software, & User's Guide)
Multi-Language Quick Installation Guide
Network cable (1.5 m / 5 ft.)
Power adapter (5V DC, 1.2A)
Camera mounting kit